About the Teacher

Elyse Bushman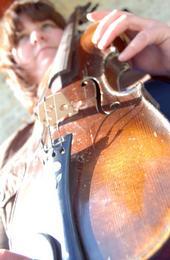 Elyse has had the pleasure of teaching for over 5 years, and it is her passion to share her love of music with others. She feels blessed to be able to share this with people every day, between teaching and performing. In her 21 years of playing, she has performed with many ensembles, including the Elgin Youth Symphony Orchestra, Oauchita Baptist University Orchestra, and College of DuPage Orchestra. Currently, Elyse plays with the worship team at The WELL (her church in Batavia, IL), and is in a local rock band. She has also recorded with several Chicagoland music artists for their albums.

Elyse was classically trained on the Violin beginning at age 9, and studied under Simone Tingley (Batavia, IL) from 1993-1998 and quickly improved her performance under her instruction. Within one year, Elyse was a rising star in her high school orchestra. Elyse tried out for the Elgin Youth Symphony(EYS) in 1996 and was accepted into this highly competitive orchestra. She played with the EYS until she was 18. During this time, her high school orchestra teacher, Lori Rollins, recognized a devoted and talented musician in Elyse, giving her the opportunity to learn to play the Viola. Adapting well to the challenge of learning a new instrument, she stepped up to the role as leader of the Viola section. While Elyse was enjoying the challenges and rewards of playing classical music, she also enjoyed playing many different styles. She began to explore Irish Fiddle, Country Fiddle, Jazz, and Rock Violin. This led to her current performance in rock genres.
Elyse began teaching in 2005, and discovered that she loved instructing as much as she did playing. During this time, she learned to play piano. Elyse has taught at music studios in the DeKalb and Geneva areas, as well as her own private students in their homes. She has taught students from age 4 to adults of all ages. For the violin and viola, Elyse offers classical, Improvisation, Irish Fiddle, Rock Violin, Country Fiddle, and Jazz lessons from beginning to advanced levels. For piano, she teaches beginning to intermediate students. The lessons are individualized, and based on the student's needs, strengths, and style preferences.